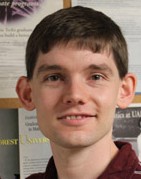 Dr. Zachary Abernathy
Email: abernathyzwinthrop.edu
Winthrop University
Status: Faculty
Department: Math,
Will Mentor: Pre-doctoral students
---
Areas of Expertise
Pure Mathematics, Applied Mathematics,
Research Interests
functional analysis, ordinary differential equations, cancer biology
Bio
I graduated from Wake Forest University in 2006 as a double major in Mathematics and Physics. I then continued on to North Carolina State University, earning a Ph.D. in 2011. My wife, Kristen Abernathy, is also a mathematician and we are both currently associate professors at Winthrop University.
While my own research focuses on existence and uniqueness theorems for nonlinear boundary value problems, I am also interested in working with undergraduates to develop and analyze mathematical models of cancer growth and treatment. I have had the pleasure of working on several projects with students from underrepresented groups as a mentor for the McNair Scholars Program and as the principal research mentor for a National Research Experience in Undergraduates Program (NREUP). I believe strongly in the transformative power of undergraduate research experiences and enjoy sharing these experiences with as many students as possible.