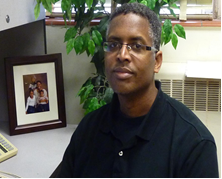 Dr. Kenneth Sartor
Email: kenneth.sartoraamu.edu
Alabama A&M University
Status: Faculty
Department: Math,
Will Mentor: Doctoral students, Pre-doctoral students
---
Areas of Expertise
Applied Mathematics,
Research Interests
Signal and Image Processing, Optimization, Calculus of Variations
Bio
Dr. Kenneth Sartor has a Bachelors Degree (Georgia Tech) and a Masters Degree (North Carolina A&T State University) in Electrical Engineering. He has over 15 years of engineering experience through his work with Georgia Power, Eastman Kodak Company, Harris Corporation, and Northrop Grumman. He was awarded a Ph.D. in Applied Mathematics from Florida Tech where his research focused on variational phase estimation methods for synthetic aperture radar (SAR) applications and interferometric SAR (IFSAR). Dr. Sartor has published several papers in this area. In addition, he holds two patents in the areas of SAR and image processing. He has worked on of variety of programs, IR&Ds, and customer funded studies in radar processing, sensor modeling, image chain analysis, ballistic missile defense, geographic information systems (GIS), signal processing, and machine intelligence. His recent positions include chief image processing scientist and systems engineer for Northrop Grumman in Melbourne, Florida and Huntsville, Alabama respectively. Currently, he is a full time assistant professor of mathematics at Alabama A&M University. Ken still continues his work with industry but on a part-time basis.