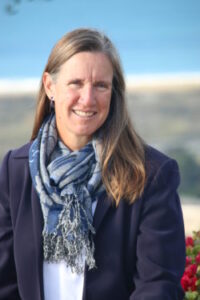 Dr. Cynthia Wyels
Email: cynthia.wyelscsuci.edu
California State University, Channel Islands
Status: Faculty
Department: Math,
Will Mentor: Pre-doctoral students
---
Areas of Expertise
Pure Mathematics, Applied Statistics,
Research Interests
Combinatorial Mathematics, Data Analysis
Bio
Cynthia J. Wyels received a Ph.D. in Mathematics from UC Santa Barbara, after studying at Pomona College and the University of Michigan. Her previous faculty experience includes California Lutheran University, Weber State University and the United States Military Academy. Dr. Wyels research interests lie in combinatorial mathematics and linear algebra. She is currently studying data analysis techniques, with a focus on applications to educational interventions and large environmental datasets. She has published, with undergraduate co-authors, in graph pebbling and graph labeling. Dr. Wyels is an advocate of undergraduate research and believes it is particularly meaningful for students from non-traditional backgrounds.
Dr. Wyels has written and worked on several grants while at CSUCI. The NSF-funded Research Experiences for Undergraduates in Mathematics site is an intensive summer research program that allows students from across the U.S. and one from our partner institution in Mexico to work on original research in mathematics under the guidance of faculty mentors. Her work with the CSU LSAMP program focuses on Ph.D. and M.S. knowledge and success for CSUCI undergraduates in Science, Technology, and Mathematics facing financial, educational, or social barriers to higher education. Shes played key roles in Project ACCESO and Project PROMESAS, CSUCIs two 5-year, $6m HSI-STEM grants, including the creation of several student academic support programs. Her current PROMESAS role consists of working with faculty across the region to transform teaching and student learning in the mathematics courses needed by all STEM students.
In part for extensive work mentoring undergraduates in research activities in mathematics, Dr. Wyels was awarded the Mathematical Association of Americas Haimo Award for Distinguished University Teaching of Mathematics in 2012. She is a lifetime member of SACNAS, and is eternally grateful to her ever-growing Sacnista family for all they teach and share with her. In 2017 she received the SACNAS Distinguished Mentor award.
Dr. Wyels enjoys reading, traveling, and interacting with people from other cultures, at home and abroad. She is particularly fond of Channel Islands location, and takes advantage of it by pursuing outdoor sports in her free time.