2015 Field of Dreams Conference Review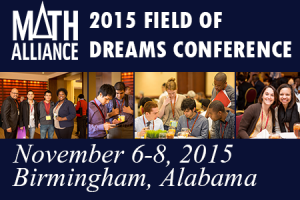 Date: November 6-8, 2015
Location: Sheraton Birmingham Hotel, Birmingham, Alabama
Agenda: 2015 Field of Dreams Agenda (PDF)
We are pleased to report another successful Field of Dreams Conference. The 2015 Field of Dreams Conference was held at the Sheraton Birmingham Hotel in Birmingham, Alabama. Over 325 participants, including 174 undergraduate students, 130 faculty, and many other representatives from other math science organizations, were in attendance from over 115 universities, colleges, and organizations nationwide.
The Friday afternoon kicked off session with an interactive workshop on maximizing your opportunities at a conference. This workshop highlighted the importance of preparation, prioritization and networking during a conference to make sure you receive the greatest experience possible. Postdoctoral Fellows from three of the eight Math Sciences Institutes followed with informational presentations on their specific research area. We introduced a few new sessions this year including a Mentor Best Practices Seminar, a panel discussing the difference between the various mathematical disciplines, and a panel highlighting the value of an Undergraduate Research Experience. Friday festivities closed with an evening reception, poster presentations and the participation of 60 exhibitors during the Graduate/Career/Summer Programs Fair.
We were honored to have Dr. Michael Reed from Duke University to give the Math Science Talk Saturday morning entitled "How can mathematics contribute to precision medicine?" There was something for everyone on Saturday with panels ranging from "How to Succeed in a Doctoral Program" and "Careers in the Mathematical Sciences" for Alliance Scholars and panels discussing mentoring experiences, tips, and lessons for Alliance Mentors.
Our Keynote dinner speaker, Dr. Talithia Williams from Harvey Mudd College gave a brilliant presentation that held the attention of everyone present. Her talk entitled "Math with meaning: "Living your life with impact" moved the audience to tears and thunderous applause.
We would like to thank everyone who helped prior and during the conference, and all our sponsors and panelist for making this conference our best one yet! Check out our Flickr site for plenty of photos from the 2015 Field of Dreams Conference. If you'd like to share your stories or photos from the conference send them to miles-dietz@uiowa.edu.